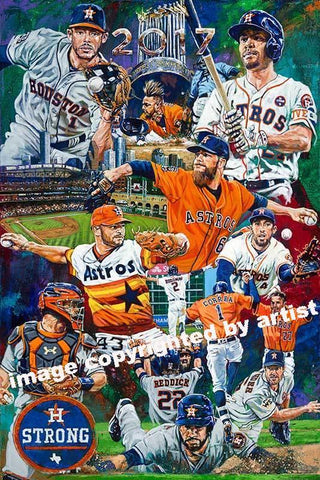 Houston Astro 2017 Championship Team hand painted limited edition canvas giclee
Description
Hand painted 24" x 36" limited edition canvas giclee print celebrating the 2017 Houston Astros World Series winning team. Stay strong Houston!
Details
Houston Astros 2017 Championship Team by Robert Hurst
Hand painted limited edition giclee print on canvas

What do we mean by "hand painted"? Robert will come in and add additional images plus extensive hand painted highlights to the foreground and background of your artwork. The result is a unique piece with added value

Limited to ONLY 17
Signed and numbered by the artist
24" x 36"
Museum wrapped so no framing required
Also available, a double matted fine art print and 20" x 30" limited edition giclee print
Additional Information
Usually ships in 3 days
This artwork is part of the City Series by Robert Hurst
About the Subject
Depicted in the artwork are (top row) 

Carlos Correa, Yulieski Gurriel, Jose Altuve; Dallas Kuechel (pitcher in orange); George Springer (under Keuchel's arm); Correa and Altuve (under Springer); Marwin Gonzales (sliding at bottom); Josh Reddick (above Gonzales); Evan Gattis (catcher); Lance McCullers Jr (in rainbow shirt pitching); and MinuteMaid Park. Also shown, World Series logo, Justin Verlander and Alex Bregman

With a World Series win in 7 games the Houston Astros brought a much needed boost to the city of Houston after a devastating storm ravaged the city in 2017
Sports category:

professional baseball, MLB, Houston Astros

Art category: art, artwork, canvas prints, limited edition giclee, hand painted edition
Our online store has been open since 1999. I think you will be impressed with what our customer's have said and the ratings Robert's art and our service have received over the years
Our Overall Store Rating is 5 stars out of 5
All artistic images on aDamnFineArtist.com are copyrighted. Note: Any copyright watermarks on the image(s) are ONLY on the digital image(s). Your purchased artwork will not include any watermark verbage or logos
The images contained on this website, and all images created by artist Robert Hurst, are the property of Robert Hurst, and are protected by United States and International copyright laws
No permission, either express or implied, is granted for the electronic transmission, storage, retrieval, or printing of the images contained on aDamnFineArtist.com, other than that which is related to the normal "caching" practices of web browsers. No reproducing of the images of any sort is allowed unless explicitly granted in writing by Robert Hurst or his representative
Thank you!
---
You May Also Like